Welcome to the Epiphany Episcopal Church Website
We Seek God – Live Christ – Share the Spirit and we invite you to join us!

Happening now @ Epiphany: 
The Redemption of Scrooge.  Join our advent study, starting with a screening of the Patrick Stewart "A Christmas Carol" this Friday, December 1 at 7:00pm.  There will be popcorn!  The studies continue each Sunday morning of Advent at 9:00am.
Save the Dates:
* December 17 – Lessons and Carols (4:00pm)
* 
January 6
 – Journey to Bethlehem  (
6:00pm)
* January 7 – Chili Dinner in recognition of our clergy and first time pledgers (5:00pm)
~
 Want to know what we are up to all the time?  Visit our Calendar!
 ~
Faith Matters – Class hosted by Father Rick, Sundays at 9am, weekly.
Coffee with Father Rick – Tuesdays at 9am in the Parish Hall; all are welcome!  Following immediately are Father Rick's Office Hours from 10am.
~
If you would like an appointment with Father Rick outside of his Office Hours (Tues. 10am-12pm & Wed. 3pm 6pm) please call 702-540-6716.
~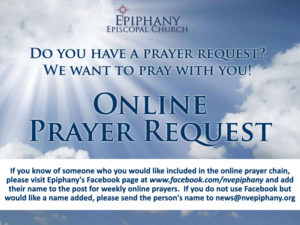 ~
 Community Outreach @ Epiphany
Food Bank at EpiCenter – Collections taken first Sunday of each month.   EpiCenter is in need of "after school" foods – snack crackers, canned fruit, peanut butter and jelly, soup, etc.  Your generosity is appreciated and has been noted by EpiCenter!
Gabriel's Gift – Collections ongoing of travel-sized toiletries, bottled water, sunscreen, lip balm, and non-perishable snacks for homeless in the Las Vegas Valley.  Gabriel's Gift is the non-profit carrying on the work of parishioner Gabriel Perez who passed on in 2016.
Communities in Schools – CIS is dedicated to helping students stay in school.  Epiphany is supporting the mission through regular donations of school supplies.  Look for the yellow container in the Narthex and see Laura Canon with questions.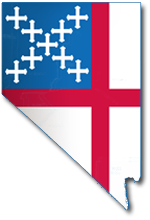 Epiphany's Mission 
Epiphany is a multi-generation Christian community inviting all God's people to live and worship in the Anglican tradition. We grow through Christian formation, education, fellowship, outreach and liturgical worship.
Why Epiphany?
We are in a special place and a special time serving this corner of Las Vegas & Henderson.  We are comprised by so many people from so many different places with so many different talents and gifts who come together, continuing always to build our community. If you are looking for an accepting faith community where you can find your talents and gifts, Epiphany Episcopal Church welcomes you.  Please explore our website and visit us to learn more about what our community offers! 

Seek God – Live Christ – Share the Spirit
Where to Find Us
Epiphany Episcopal Church
10450 Gilespie St.
Las Vegas, NV 89183
702-693-4100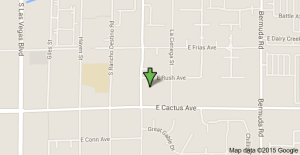 Community Links
Episcopal Church of America (The National Church @ 815 2nd St, NY, NY)