Education
Epiphany's free, weekly church school will begin on Sunday, August 27 at 9:45 a.m.  Please complete the registration form by August 27 and email it to nvepiphanynews@gmail.com.
"What nobler profession than to touch the next generation – to see children hold your understanding in their eyes, your hope in their lives, your world in their hands.  In their success, you find your own, and so to them, you give your all."  Unknown.
The Diocese of Nevada, along with Epiphany, requires that Safe Guarding God's Children is taken every 5 years.  All Vestry, Church School teachers and anyone working with children must be certified.  For more information on the Safe Guarding program or becoming certified, please contact the Diocese of Nevada at 702-737-9190.
Nursery Care
For our youngest children (infants through 3 years of age), nursery care is provided during the 10 a.m. Eucharist each Sunday.
Church School
Church School begins at 9:45 a.m. and continues until children are brought into the Nave during the Peace.  Ages three through 1st grade return to class after receiving Communion.  "Living the Good News" is the curriculum used for preschool through 6th grade.
The Church School program hosts a variety of activities for our children and their families.  A few of these include the Fall Sunday School Kick-Off, the Christmas Youth Service, Easter Egg Hunt, Mother's Day Flowers and the End of the Year Pool Party.   Music is also included in classroom learning and children in Pre-K through 8th grade sing during the Offertory in service on selected days of the year.
Middle & High School Class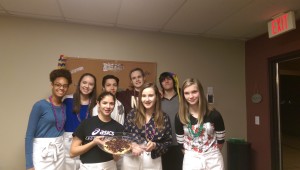 Older youth have the opportunity to engage in matters of faith which relate to their lives in their schools, with their families, in the church, and in the world.  The youth participate and bond in many activities throughout the year. They host the Shrove Tuesday pancake dinner, make pasta for Mother's Day, and enjoy pool parties and bowling parties in addition to weekly Sunday clases. Many of our children attend Camp Galilee together over the summer.  The middle and high school students take lead roles in the Christmas Service.
Adult Programs
Throughout the year there are many opportunities for adults such as bible and book study groups.  Baptismal and confirmation preparation, as well as Advent and Lenten studies, help compliment the liturgical calendar.